The Power of Why and Wonder
Cultivating the Habit of Thinking
As a mother of a twelve-year-old and a three-year-old, I hear the word why many times throughout the day. Why do the leaves fall? Why do I have to go to bed? Why can't I watch that show? Why do I have to eat my vegetables? Why do we yawn? In the hustle of the day, it's easy for me to quickly provide an answer so that we can move on to what is next. It is also common for me to explain objects, events, or statements before my children have time to ponder them.
I've been reflecting on our habit of the month — the habit of thinking — and rereading Laying Down the Rails by Sonya Shafer, and I have been reintroduced to the power of why and wonder, as well as the value of everyday situations to encourage intentional and logical thinking. This kind of thinking is what Charlotte Mason describes as, "a real conscious effort of mind, and not the fancies that flit without effort through the brain." In 2022, we could call that kind of thinking critical thinking.
Charlotte Mason also provides us with clear guidance when it comes to providing the opportunity for our children to think:
Of the evils of modern education, few are worse than this — that the perpetual cackle of his elders leaves the poor child not a moment of time, nor an inch of space, wherein to wonder — and grow.

Vol.1, p.44
Instead of stomping out the opportunities for my children to wonder, how can I replace my "cackle" with opportunities for my children to think?
Develop thinking routines.
See, Think, Wonder: Ask your children three simple questions when encountering God's creation, a beautiful piece of art, and so much more: What do you see? What do you think? What do you wonder? We can inspire wonder with gentle questions that help us draw closer to God, ponder the invisible things of God, and lead us to worship. We can go further and ask, "What could that teach or remind you about God, our Creator?"
What Made You Wonder? At the conclusion of your day, perhaps at the dinner table, ask your children to share their high moments, their low moments, their weird moments, or moments or events that made them wonder.
Reading is Thinking: When reading, we are "thinking in response to written language" (Fountas and Pinnell). When reading to or with your children, pause to wonder with questions such as:
Why did that character do/say that?
What do you think the character was thinking when…?
What do you think will happen next? Why?
Why did the character feel…?
How would you have solved that problem?
Ask why before your children do! Encourage thought about cause and effect, comparison and contrast, and premise and conclusion.
Every (nature) walk should offer some knotty problem for the children to think out — 'Why does that leaf float on the water, and this pebble sink' and so on.

Vol. 1, p. 154
It is such a gift to see and hear our teachers modeling this for our students and then to see our students naturally ponder God's creation!
When an effect occurs, invite your child to ponder the cause. Maybe even wonder alongside them! Ponder the likeness and differences of everyday objects and events. When a premise is shared, think alongside your children about conclusions that could be drawn. Developing these habits can support our children in thinking, in my simple words, "a few steps ahead" before impulsively acting or speaking.
Model and guide our children in forming opinions, with humility, after careful thought, and through the lens of Biblical truth.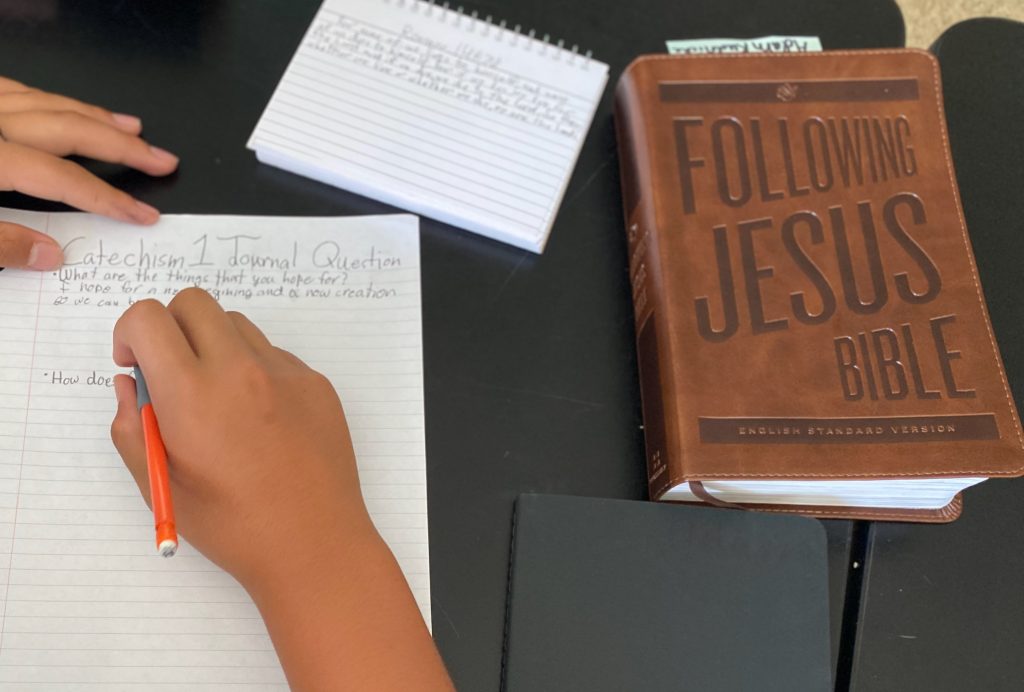 We all have opinions and it is easier than ever to learn the opinions of others without even asking. It is important that we continue to point our children to the Bible, the living and active Word of God, so that they are equipped to encounter all areas of learning and life from the perspective of Biblical truth. We must also ensure that our children share their opinions with gentleness and respect.
We must avoid the short road to opinions; we must not pick them up ready-made at any street-corner; and next, we must learn — and this is truly difficult, a matter that takes us all our lives — to recognize a fallacy, that is, an argument which appears sound but does not bear examination.

Charlotte Mason, Ourselves, Book I, p. 185
As we partner to cultivate this habit of thinking within ourselves and our children, may we all thirst for and feed upon the true Word of God in order to think with the mind of Christ.